Grease Analysis
Predictive Analysis for Industrial Systems
Your primary concern as a business is to be profitable. All too often, these days, this requires an increase in profit through a reduction in costs. A well run condition monitoring program will achieve a substantial reduction in manufacturing costs. WearCheck's grease analysis packages offer you condition monitoring for your industrial systems. A plant survey to identify essential and critical machines will allow you to assess your analysis needs. WearCheck offers three levels of analysis, from basic to advanced test kits, to meet your condition monitoring requirements.
WearCheck's grease analysis packages cover all three areas of analysis. An assessment of the grease condition reveals whether the grease is ready to be changed, or if it is fit for further service. Save money by maximizing your grease servicing intervals with the confidence that condition monitoring provides. Detection of ingressed contaminants from the manufacturing environment, including process contaminants, dirt, and water alerts you in time to perform a grease service, avoiding unnecessary wear. When the grease condition is routinely monitored, system wear will be minimized. WearCheck's analysis can detect subtle changes in the levels of wear metals present in the grease. Failures due to worn out components can be avoided long before failure occurs.
A WearCheck Technical Representative will analyse your plant equipment list and recommend the proper test kits for each machine. WearCheck provides you with clear and concise directions, forms and sample bottles needed to submit samples to the WearCheck laboratory. After you have taken a small sample of gresae from the system, simply fill out an information sheet and submit it with your sample to the laboratory.
WearCheck's grease analysis is effectively used today for a broad range of greased systems operating in a wide variety of applications including wind turbines, industrial bearings, grease lubricated gearboxes, hubs and chassis.
Test
Test Method
Description
GRS1
GRS2
GRS3
ICP Analysis
ASTM D5185
Determines the parts per million (ppm) of all wear metals (Fe, Cr, Ni, Pb, Cu…), contaminants (Si, Na, K….), and additives (Ca, P, Zn, Mg, Mo…).
Color/Appearance
Visual
The appearance is a very important parameter when evaluating the condition of the grease. It includes the subjective assessment of its colour, texture and odour.
Consistency
SKF Method
Changes in grease consistency may indicate mixture of incompatible thickeners, elevated levels of contamination or wear, or a high consumption of antioxidants.
PQ Index
ASTM D8184
Provide a rapid indication of metallic debris in an oil sample. Detect ferrous wear debris that may be missed by spectrometric analysis.
Water Content
ASTM D6304
Determines level of moisture or water contamination in the oil.
&nbsp
Oil Bleed
SKF Method
Provides an indication of changes to the base oil viscosity and detects when a grease is drying out due to grease ageing.
&nbsp
Voltammetry (RULER)
ASTM D6810/6971/D7527/D7590
Measures the levels of aminic and phenolic anti-oxidants remaining in the oil. Determines the necessity for oil replenishment or replacement.
&nbsp
&nbsp
Ferrography
ASTM D7690
A detailed morphological analysis of the wear debris particles suspended in the oil. A-Ferr can determine the type of wear process and cause of wear in a lubricated system.
&nbsp
&nbsp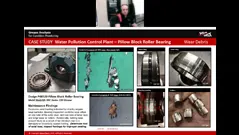 Traditional grease analysis involves testing to assess a grease products performance and quality. Employing today's suite of new ASTM methods for lubricants, WearCheck has developed a range of grease testing programs to assess used greases and troubleshoot grease related lubrication issues. Bill Quesnel will discuss the various test methods employed for grease analysis in commercial oil analysis laboratories today and demonstrate the effectiveness of these new programs through a series of grease analysis case studies.
WearCheck Grease Analysis includes everything to set-up a complete Grease analysis program. When you purchase a WearCheck Grease analysis program you will receive our simplified sample kits (QR-coded bottles & sample forms with mailing packs). All WearCheck Grease analysis programs include laboratory testing, sample diagnosis and recommendations, sample report, and access to our patented WebCheck™ system, and companion mobile application to manage your Grease analysis program.
WearCheck offers additional programs for Fleet Vehicles, Off-Road Construction, Mobile Equipment, Fixed Plant Machinery, Marine Equipment, Wind Turbine Industry, Aviation/Avionics Systems, Advanced Oil Monitoring, Coolant Analysis, Diesel/Marine/Jet Fuel Analysis, Thermal/Heat Transfer Fluid Analysis, Transformer Fluid Analysis, Wear Particle Analysis, Honeywell TPE-331/TFE-731 SOAP Service.
Request more Info